Propeller strikes (or "prop strikes") often result in serious injuries. Even when spinning at relatively low speeds, propellers on outboard motors can cause severe cuts, bone fractures, loss of digits and limbs, and other traumatic injuries. The risks of prop strikes are especially dangerous when they happen on open water where emergency medical care is not readily available.
Boating accidents and injuries from a vessel's propellers are even more life-threatening when the operator of the vessel is so careless that he strikes a swimmer or diver and then knowingly or unknowingly abandons the diver in the ocean with grievous life-threatening injuries.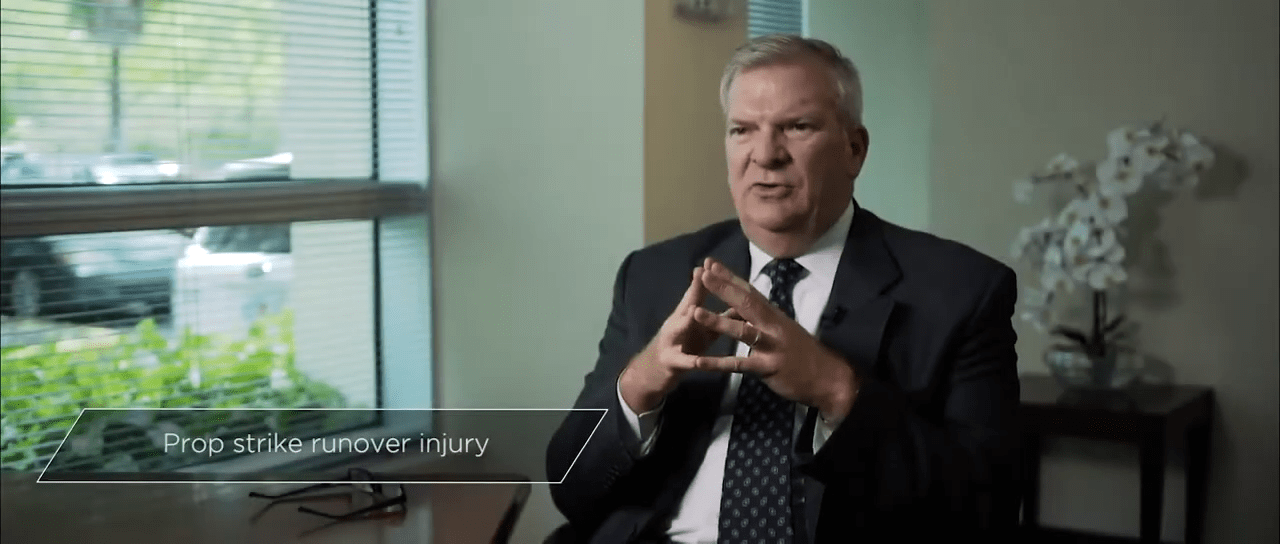 Unfortunately, this is exactly what is alleged to have happened on December 13, 2021, in the coastal waters off of Dania Beach in Broward County, Florida, per a Complaint filed in the Circuit Court of the 17th Judicial Circuit in and for Broward County, Florida. The Complaint filed by the Maritime attorneys at Brais Law alleges Michael H. Gray, while operating a 50" MTI vessel and accompanied by his wife, Lori Gray, ran over Dionny Baez while he and a dive buddy, Danilo Garcia, were spearfishing near the Dania Erojacks, just North of the Dania Pier. The lawsuit, which seeks $10.5 million in damages, includes the following allegations: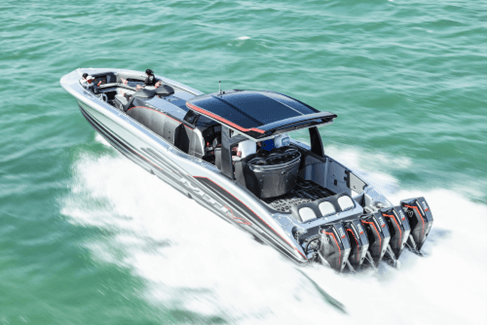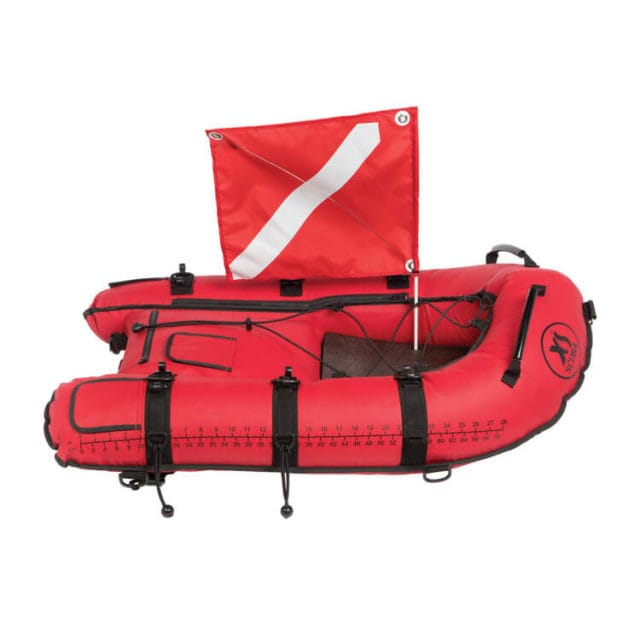 Negligent Boater Strikes Diver in Borrowed Boat, Then Flees
Our client, Dionny Baez, was spearfishing with a companion in the coastal waters off of Dania Beach. They were diving from a red and black XS Scuba Universal Floating Object (UFO), equipped with a "divers down" flag that they legally and prominently had on display. See photos of exemplar 50' MTI and UFO below:
Per the Complaint, our client and his companion stayed well within the 300-foot diving area surrounding their UFO. In fact, when the incident happened, they were only about 15 feet from their UFO. In the minutes leading up to the accident, both divers were at the surface and clearly visible to any attentive boat operator.
Despite the fact our client and Danilo Garcia did everything right, Dionny Baez suffered life-altering injuries due to the alleged careless, reckless and negligent operation of the MTI vessel by Michael Gray ("Gray"), the failure to maintain a proper lookout by Lori Gray and negligent entrustment of the vessel to Gray by MTI-V during an alleged weekend long sea-trial of the vessel without any MTI-V representative onboard. In the moments leading up to striking our client, Gray operated the 50-foot MTI vessel, equipped with five outboard engines for a total of 2,250 horsepower at a high rate of speed. Per the assertions within the Complaint, the vessel hit our client—first with the hull, then the engines' skegs and finally the outboard motors' propellers.
Our client suffered severe and permanent injuries as a result. These injuries included (among others):
At least 10 broken ribs (some with multiple fractures)
Complex thigh, flank and thoracic injuries requiring debridement
Exposed bone in his thigh
Tibia fracture requiring surgery
Severe liver lacerations requiring surgery
Diaphragm and appendix injuries
Head lacerations and brain trauma
Respiratory failure requiring intubation in the intensive care unit (ICU).
See below photos: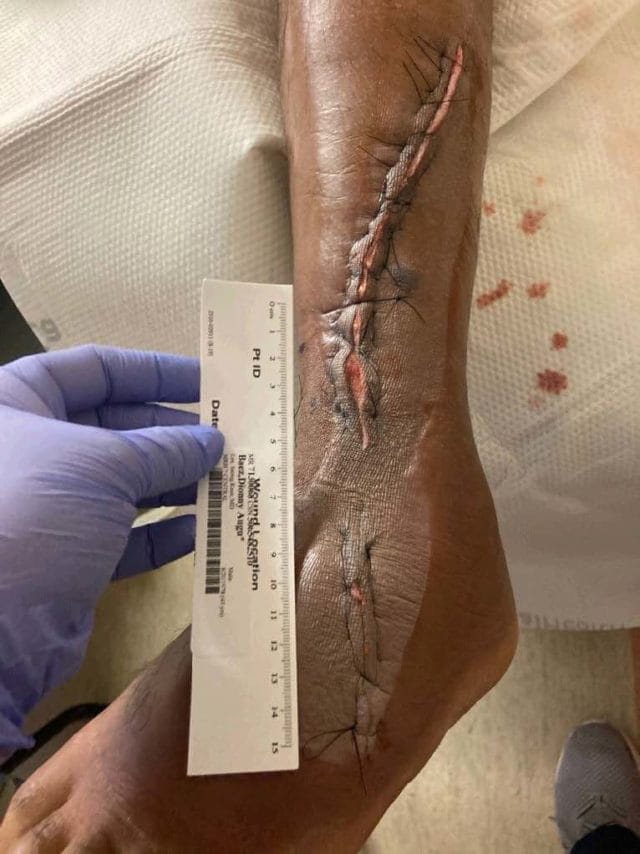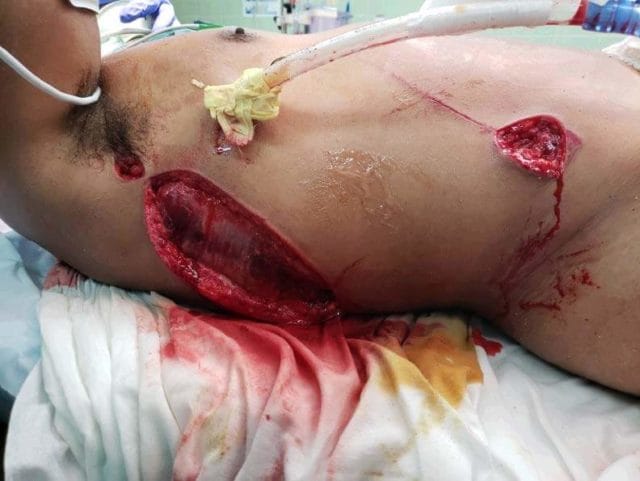 GPS data downloaded from the MTI vessel establishes the vessel with Gray at the helm was at the exact location, at the precise time our client was struck. Per the Complaint, the GPS data strongly suggests that Gray either saw Dionny Baez and the UFO seconds before impact or became aware of the impact due to engine disturbance or a loud noise resulting from the impact. The Complaint also states that after the incident, our client's companion signaled to the vessel's operator and passenger. Despite making eye contact, Gray and his wife continued on their voyage. They did not call the U.S. Coast Guard, 911, or any other authorities.
As a result, Dionny Baez and his companion were left to fend for themselves, abandoned in the Atlantic Ocean. Our client was bleeding out, and their only option was to swim to shore. Heroically, our client's companion hoisted Dionny into the UFO and swam for the beach with Dionny assisting with his one uninjured leg.
Thankfully, our client survived the ordeal. But, after multiple surgeries and 12 days in the hospital, his life will never be the same.
MTI-V Negligently Entrusted the Vessel for a Multi-Day Sea Trial
The 50-foot MTI vessel that struck our client did not belong to the operator. Instead, MTI-V had entrusted the vessel to Gray for what amounted to a weekend-long pre-purchase sea-trial. As alleged in our firm's complaint, MTI-V negligently entrusted the vessel to the operator knowing or at least having reason to know, that he did not have the skill or experience needed to safely operate a 2,250-horsepower vessel.
While MTI-V cooperated with the Florida Wildlife Commission's (FWC) investigation of the accident by providing access to the vessel's GPS data, this does not excuse the company's failure to ensure that Gray possessed the requisite experience and skill to operate the vessel on his own and without an MTI-V representative onboard. As a result, in addition to suing the operator and his passenger, our firm has filed suit against MTI-V as well.
Lawsuit Seeks $10.5 Million in Damages for Multiple Legal Violations
As set forth in the Complaint, Brais Law is seeking $10.5 million in damages for our clients—Dionny and Yarissette Baez. This includes compensation for our client's medical expenses, loss of earnings, emotional distress, pain and suffering, scarring and disfigurement, and loss of companionship, society, and consortium. Our clients' lives have been changed forever—and the tragic accident happened entirely due to circumstances beyond their control.
But, the circumstances were not beyond the control of the vessel operator, passenger, and MTI-V. The Complaint alleges each of the defendants committed multiple failures that constitute violations of Maritime and/or Florida law. These include (but are not limited to) violations of:
Section 327.22 of the Florida Statutes
– This law requires vessel operators to act in a reasonable and prudent manner and to avoid endangering the "life, limb or property of any person." It also requires boaters to comply with all navigation rules.
Section 327.32 of the Florida Statutes
– This law requires vessel operators to exercise "the highest degree of care" to prevent injuries to others.
Section 327.30 of the Florida Statutes
– This law requires vessel operators to render assistance after a collision.
Florida's Negligent Entrustment Law
– When entrusting vessels to prospective customers, companies like MTI-V have a legal duty to take reasonable steps to ensure that their customers can operate their vessels safely.
This is a tragic case, and while the accident was avoidable, these types of boating accidents are far too common. We are proud to be fighting for justice on behalf of our clients, and we encourage all boaters to learn from this case going forward.
Contact Brais Law Firm's Maritime Injury Lawyers in Miami, Florida
If you or someone you love has been seriously injured in a boating accident, we encourage you to contact our Boating Accident Attorneys for a free consultation about your legal rights. To speak with a maritime injury lawyer at Brais Law Firm in confidence, please call 800-499-0551 or tell us how we can help online today.
To further pursue our client's case, Brais Law firm is looking for all witnesses near Dania Beach and Dania Beach Pier in Florida on December 13, 2021, between 8 am and 10:30 am. If you may have witnessed the incident alleged in the complaint, where an MTI-V Vessel ran over our firm's client, please contact us today.