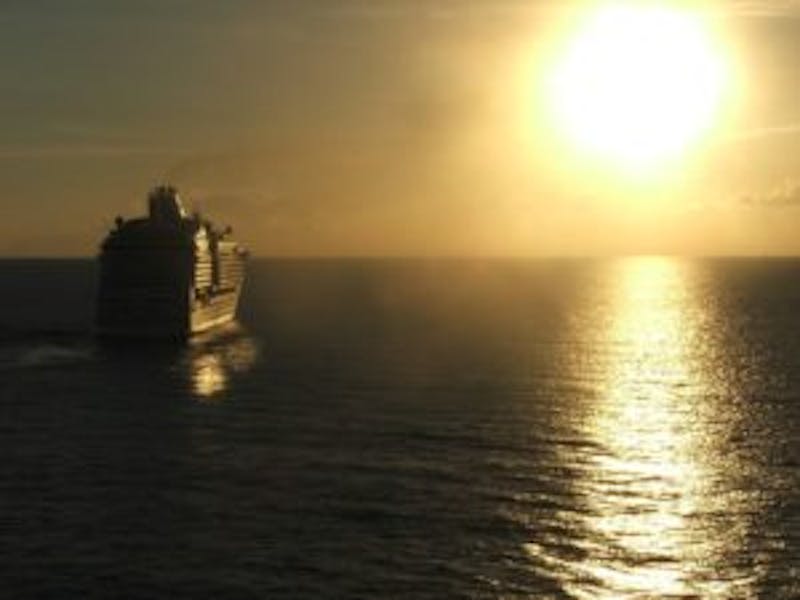 On October 19, 2018, Christopher McGrory, a 29-year old man from Palm Beach County, fell on a cruise ship and landed on a lower deck, suffering fatal injuries. McGrory was traveling aboard Bahamas Paradise Cruise Line's Grand Classica celebrating his bachelor party. The ship was cruising from the Port of Palm Beach to Freeport in the Bahamas. McGrory was set to marry his partner, Jessica Arnett, on December 1st.
According to reports, other passengers on the cruise ship heard a "code blue" alert announced over the ship's intercom. "Code blue" signals a medical emergency. Passengers then gathered around a stairway and reported seeing "pools and pools of blood."
McGrory was rushed to St Mary's Medical Center in West Palm Beach by the U.S. Coast Guard and the Riviera Beach Fire-Rescue, where he was pronounced dead. Bahamas Paradise Cruise Line confirmed a passenger had been evacuated by authorities due to a medical emergency.
McGrory's fiancée published a Facebook post sharing photographs of the couple and wrote: "With a heavy, heavy broken heart, it kills me to write this as it all seems surreal but I should tell you all my sweet sweet Chris was in a tragic accident and has passed away. I'm at a loss for words, that man was my true love and my best friend. Please keep us all in your prayers."
We are deeply saddened by this news. By all accounts, McGrory was a beloved fiancée and friend. He worked as a collateral analyst at Wells Fargo in Fernandina Beach.
CRUISE SHIP FALL ATTORNEY
Complete information surrounding the incident has not been released as the investigation is ongoing. However, passengers fall overboard, disappear, or fall over railings for a number of reasons for which a cruise line can be held accountable. Cruise ship passenger falls over railings can occur many different ways including:
Inadequate or defective handrails;
Intoxication from being over served alcohol in the ship's bars and lounges;
Failing to warn of rough seas; and,
Violent actions of the ship's crew members or other passengers.
Intoxication
Cruise Lines have various profit centers. Cruise tickets, sale of shipboard merchandise and excursion tickets, fees for medical services, gambling in casinos and, finally, the sale of alcohol during a cruise all help to increase profits. More and more cruise lines restrict passengers from bringing alcohol aboard and if purchased in a port of call is held for the cruise passenger upon disembarkation from the ship. This leaves only one way for a passenger to become intoxicated aboard a cruise ship. They must be over served by ship's staff. Many times, the true alcoholic content of these drinks is masked by mixers, fruit and a variety of other masking additives. This can lead to a cruise passenger drinking far more shots of alcohol than they are accustomed to. The results can be dangerous. A cruise passenger whose intention was to simply have a good time with friends, but due to the service of excess alcohol is without better judgment and vulnerable to accident or injury.
Cruise Lines have the duty not to serve their passengers alcohol to the point of intoxication. Should a passenger become intoxicated, the Cruise Line owes the duty of reasonable care to protect the passenger from his/her (albeit self-imposed) disability. If the Cruise Line fails to fulfill its duty, it can be held liable for the passenger's disappearance and/or damages associated with the passenger falling over a handrail.
If you have suffered injuries during a cruise due to the fault of another, you may have a right of action for damages. Cruise accident litigation may seem straightforward, but it can be rather complicated in some cases.
At Brais Law Firm, our attorneys — some of whom are Board Certified in Admiralty and Maritime Law — bring to bear over 75 years of combined trial experience advocating on behalf of injured clients in a range of maritime accident scenarios, including those that involve cruise ships. We are deeply committed to the well-being of our clients, and to that end, we have adopted an approach to litigation that is comprehensive and aggressive. We work tirelessly to secure maximum compensation for our clients.
Curious about whether your claims are actionable? Call 1-800-499-0551 or submit an online claim form through our contact us page to schedule a free and confidential consultation with an experienced cruise accident lawyer here at Brais Law.